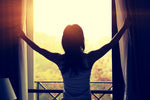 I need a little time  To think it over  I need a little space  Just on my own…
Aah the 90's. We remember them well, and perhaps you recognise the lyrics from The Beautiful South's hit?  Perhaps the words echo feelings of your own?
Most of us feel that we would like more time, especially time on our own, just to be and not to do; to take time for ourselves with no rush, no feeling that we ought to be doing something else, or needing to be elsewhere, or tending to somebody else's needs or demands.
Here at Pure Elixir, we believe in what we call the 360 approach to life, combining good nutrition with exercise and rest, to support not only our skin but our general health and wellbeing. And a good amount of 'me' time is an essential ingredient. So, how do you get it? It's actually quite simple…..
You do it at the start of the day!
And, now that the clocks have just gone back, this is the perfect time to do this; take advantage of this brief spell before your bodyclock gets used to the new time – and maximise your time in daylight. In fact you are more likely to have more energy during the day – exposing yourself to some morning sunlight will trigger your body's circadian rhythms and help with the production of the right hormones to make you feel more energised and awake.
Your instinct may be to flinch at the thought of a little less time in bed but, trust us, the rewards are more than worth it: imagine starting the day calmly with a little extra time and space for you before the day takes over. You know you want it - the key is to take it gently and to prepare yourself by following these simple steps: 
choose tomorrow's clothes and, if you have to leave the house in the morning, check your bag and find your keys, before going to bed
set your alarm earlier. If you don't find it easy to wake up then start with just 20 minutes
when you go to bed, tell yourself that you will get up as soon as the alarm goes off
when you wake up, do not touch your phone or ipad. This is precious time for you; the rest can wait
maybe spray a little of your favourite uplifting perfume or room spray. We love Neoms's 'Energy Boosting' home mist https://www.myshowcase.com/shop/neom/home-mist---energy-boosting/NEOM020-03
make a cup of tea or coffee. Or lemon in water...
if the weather is good, open the door, look out at the sky (facing east if you can) look at the colours, see how they change and how quickly
just breathe
stretch, do some gentle exercises and get ready in your own time.
Continue like that for a couple of days and then set the alarm for another 15 minutes earlier and see how much more you can enjoy. Maybe
take extra time over your breakfast
or take longer over your hair and make up
think of your day ahead and prioritise what's really important
and, if you continue to get up earlier, maybe start your commute earlier. It's often easier.
It may sound simple and obvious but we promise that you will notice a difference. We find that it's the little tweaks that are sustainable and that is why they are effective.