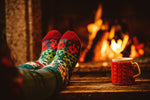 You've probably heard the latest buzz word, hygge?  Do you know what it is, or how to pronounce it? There's a gorgeous new book about it if you really want to learn - The Little Book of Hygge - and, please, don't even think about getting the kindle version. The book itself is a thing of beauty and, well, a kindle just isn't hygge.
Whilst we can't pretend to be experts, we believe that hygge is not too tricky really and we want to help you embrace the moment. In fact, now that it's autumn, you probably already are… 
First, the pronunciation. Try saying 'hoo-ga' but with an element of clearing your throat so that the first syllable is a bit more like the word 'hug.' Our favourite by far is the adjective, hyggelig, pronounced hoo-guh-lee.
Secondly, the translation. There isn't one. It just isn't possible to convey the meaning in one word as hygge is much more of a concept, a way of life of which the Danes are rightly proud. It's a large part of the reason why the Danes are often ranked as the happiest nation on earth. In fact, the Organisation for Economic Co-operation and Development (OECD)  ranks Denmark second highest  in the world for achieving work-life balance in their 'better life index' (it's fascinating – take a look http://www.oecdbetterlifeindex.org/#/11101101015).  The Netherlands scored higher (9.4 to the Danes' 9.1) but they have their own type of hygge, called gezelligheid…). 
So, what is it? It's not a coincidence that the new book has been published in October as it's the time of year when we all naturally start moving towards all things hygge. It's about homeliness, being cosy and snug with friends and family; it's about putting your woollies on and sitting by a real fire or lighting your room with candles, not scented and preferably organic if you're really channelling hygge.
In 18th century Norwegian it meant safe habitat, comfort and joy, especially in the home. The Scandinavian countries all have long, cold winters with very little or no natural daylight and it is therefore unsurprising that there is a lot of emphasis on light, especially 'living' light like candles and firelight. It's also about a state of mind as much as the experience; it's about shelter and togetherness in a safe, enclosed space. 
A long walk in the countryside followed by a Sunday roast with friends next to a roaring fire in a cosy pub would be hygge; a shopping trip to Harvey Nichols followed by sushi wouldn't. A large mug of hot chocolate snuggled up on the sofa watching a favourite film with your children is hyggelig, but a plate of spiralised raw vegetables with a hemp dressing on designer crockery isn't.
Generally, excess consumption and an obsession with luxury items are seen as inauthentic, whereas the simple, natural pleasures in life, and a focus on friends and family are at the heart of hygge.
None of this is too difficult to grasp and we think that the reason why the Danes as a nation seem to be so much happier must also go deeper. When we were in Copenhagen we went on a fabulous bike tour of the city with Mike's Bikes http://bikecopenhagenwithmike.dk. Mike is quite a character (to say the least) and his tours are so, so much more than a simple tourist jaunt: ''I am not just another #$@%&*! bike tour guide. I am bike mike.'
He is eccentric and passionate and our journey gave us a fascinating insight into what it means to be Danish - lots of cyclists in comfy (and yet often very stylish) clothes, delicious food everywhere including on the street, beautiful architecture, stunning lighting, no cars… He gave us an interesting history lesson into the political, philosophical and cultural growth of Denmark and we understood their society to be egalitarian and extraordinarily happy. Looking back, we don't remember him mentioning hygge but we certainly felt it, and we really believed that we could happily live there (admittedly it was sunny that day!).
The Danes certainly enjoy a high standard of living but they are also renowned for paying some of the highest taxes in the world and we wanted a greater understanding of their society and approach to life. We found a very interesting article written this year for usnews.com written by Meik Wiking, the author of The Little Book of Hygge and CEO of The Happiness Research Institute, an independent think tank focusing on life satisfaction, happiness and quality of life. He explained that the average annual income in Denmark is about £35,000 and yet the Danes will happily pay 45% of that in taxes. Why? Because they know that their government looks after their wellbeing - including free healthcare for all, generous parental leave, free education including at university, and most Danes get five weeks holiday a year. Taxes are seen as an investment in their quality of life and, as a result, the Danes have less to worry about than many of us – and they are free to focus on what makes them happy. As he says in his book:
The key to understanding the high levels of happiness in Denmark is the welfare model's ability to reduce risks, uncertainties and anxieties among its citizens and prevent extreme unhappiness.
So, as the author of the latest book says himself, the secret to the Danes' happiness does run a little deeper than some commentators might suggest. But he also sees the enormous value in hygge and that the Danish way can be an inspiration to us all to find greater happiness - and peace - in our lives. We'll light a candle to that!
Jan Owen